Meli,aka gallimel.
Distinctive symbol: TAO.
Particular signs:an endless will to live.

Gallimel's House On The Web (2001/2003)
Just as quick infos, I live in Florence and I share my life between there and a little northern town named LodiVecchio, for heart's matter.
Though my heart is a really errant entity, not easy at all to make stopped as all who knows me in full are well aware of.
I love art in all its forms, I am fond of music and literature and visual creativity: I am a writer and a painter myself, and.. a good (great?) political scientist.
My main interest is to try to discover what life is all about.. in all world, in all shapes, in all senses.
I guess at the end of my (hopefully long) life I will still have all my question marks opened to a new answer.. and I am gonna like it :)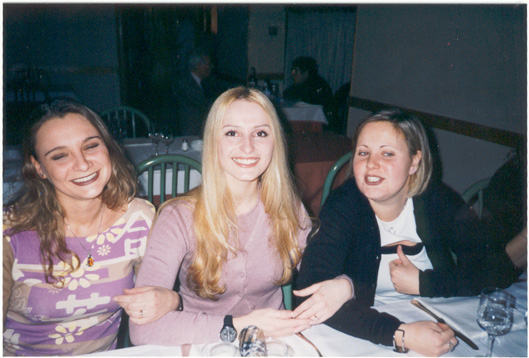 This is pic I particularly love: it was taken on march 2001 at Women's day and it shows me in the middle with my friends Monia and Chiara.
You're gonna see them a lot here, especially my lovely Monia, who's the coloured dressed one .
About me.. well.. I love to smile as much as I can and you should imitate me ;)





some of my favourites tips
Movies: All Star Wars original saga,all Kubrick's movies ban the last one, all Hitchkock productions, Seven, La Vita è Bella, and since my name.. I'd say Gone With the Wind (though Scarlett is more me than Melania:P)
I quite like movies.
Music:
Well.. I have an endless interest for 7 notes, with no probs at all to get from classical music to the most experimental electronic tricks one can imagine.
My favourite artists though are
Oasis
Pink Floyd
Jeff Buckley
Nirvana
Radiohead
and lately Sigur Ros, Hooverphonic, Badly Drawn Boy, Ed Harcourt and Hives.
But you'll see in my music section.. that to drawn into my taste is like drawning in a deep deep ocean of vibes :)