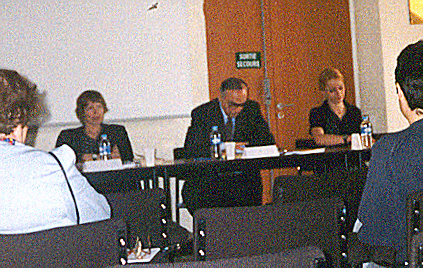 Up there in the pic you can see me in Paris during the end of May 2001 doing my first abroad Conference.

We were at Science Po with the highest heads of my University and it was my first chance to test myself as professional scholar and scientist (though yet I was not graduated even!)

I am the one on the right side, at the table, reading my essays about the Populism in Italy.

I had to analyze the campaign of Silvio Berlusconi for the elections 2001 in Italy, from the point of view - merely- of political communication field.

It was a personal success I must say, and hopefully it will be the first step in a brilliant researcher career.

It was pretty strange to be there with my teachers who tested me in these years, on the same table, doing the same things... being "one of them" almost and not a student anymore .

The thoughest part has been to reply to French students and teachers asking me about my essays for someway contest my analysis.
Well.. I replied and it seems that I've done it really greatly from their reactions.

If you like to know more about this matter, check links below.


This will be the starting page leading to some serious contents.

There's half of my existence which is totally dedicated to serious matters, and even if is not easy recognizable -especially from the funny customization of the majority of this site- when I have to be professional,I definitely am.
so this is the purpose of this section of the site: give some tips about no so easy aspects of our lives.

Which doesn't mean these aspects to be boring nor annoying.


There are gonna be different related "online Magazines" here and part of them are gonna be under the direction/supervision of a co-editor, who's more aware of certain subjects than I am.

Never fear hints of knowledge: the brain which stops to search out for answers is an useless one.


Below you can find a link which can lead you to a place where you can express also your own views about Politics, World Facts and Current Events.

Then you'll find a little magazine about International Relationships.

And finally a space for talking about Philosophy, with essays, tips about hystory of it and suggestions for enlarge your knowledge and stop to think Philosophers were, are and will be *just* boring persons :)

Enjoy :)
Click here and you are going to enter in a mixed up page which is gonna host others voices than just mine