In this part of the site you're gonna find news about various sports, and tips about Gym and whatever relates to fitness and the caring of our bodies.

As ancient Romans did, I do believe that a good physical shape is just a natural way to be in peace with ourselves, it gives us balance and satisfaction, not to mention that it preserves our health.
It has nothing to do with being self obsessed with an abstract concept of "beauty", it's more a selfrespect we owe to ourselves, and a way to build up our will and skill to reach our aims.

I've passed years when I was younger being really uncaring about my body, neverthless I've always practiced lot of different sports, among them swimming (I can teach it) volleyball, tennis and riding of horses.

But till my 20 I've never really cared about fitness.
I was wrong and from a long mile :)

Now I constantly practice sports, I am always dedicating at least one hour each day to gym, and luckily I've got mates who cares as me about this side of life so I please to share with them times of running and times when we apply to various courses of training .

Here you're gonna find also a space about correct diet and a series of recipes...
Some of the recipes though will have nothing to do with health and diet :P :P :P

I am still and i will always be such a sweet food lover.. eheh :)

Enjoy :)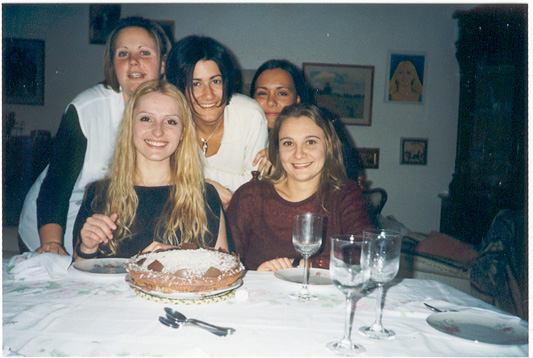 this is my concept of a good dinner ending :) Me and my friends this april with my self-made BDay cake: whipped cream, three floors of choco cream inside, and strawberries up :) D-e-l-i-c-i-o-u-s !!!!